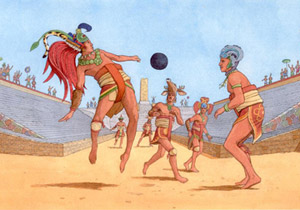 Sports have been a common practice amongst humans for thousand of years. The oldest form of sports were probabily what we now call martial arts, although this could be questioned because the objective of these early practices were not competition itself but to prepare for real hand to hand combat situations.
The first well documented team competitive sport is Polo. It was first played in India mostly by emperors and their courtiers and documents about it date back to 3000 BC. Polo is still widely played today - considered an active sport in 77 countries and played professionaly in 15. It was also originally conceived as a "war game" since it served as training for cavalry units. The basics of the game have been maintained to the present day although it was played at a much faster pace on the early days.
In this article we are going to cover a very interesting sport that most people never heard about... READ MORE...
Sports News is a site devoted to showing the latest news on the most popular sports: American Football, Baseball, Basketball and Soccer. We are focused mainly on U.S. sports news. Sports News also offers updated articles on sports related subjects.

Human beauty is extremely related to concepts such as health, youthfulness, symmetry, and complexion. All of these concepts are also very related to sports. So no wonder why we can find really beautiful women in the world of sports... "Read" all...